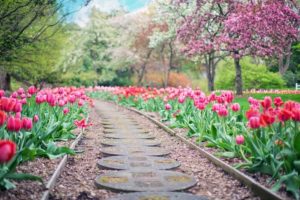 It may seem impossible with this year's elongated winter, but it's almost Virginia Garden Week! Every April, after the snow has melted and given way to green grass and budding trees, The Garden Club of Virginia hosts a state-wide garden bonanza. You won't want to miss it. In what is referred to as "America's Largest Open House," more than 250 homes and estates open their doors to share the beauty of their springtime gardens, attracting more than 300,000 visitors from around the nation.
It begins this weekend, April 21st, 2018 and continues until the following Saturday.  Thirty-five counties and locations around Virginia that you can check out at your leisure. You can purchase tickets in advance, or simply buy them on whim day-of.
Local Picks for Virginia Garden Week
Start your Virginia Garden Week experience with our beloved neighbor, Orange County, on the first day of the week long extravaganza.  The tour's highlights include a 1720s farmhouse, elegant formal floral gardens, and a 20th century stately brick home. Certainly one of the friendliest locations to start your journey, Orange combines southern charm with hospitality perfectly.
The biggest day of the week (in my humble opinion), is obviously Sunday, when the whole of Albemarle County and Charlottesville is open to visitors. Spend the whole day driving through a grand selection of estates from the 18th, 19th and 20th century, with classically inspired manor homes, and gardens to feast your eyes upon. This is an annual opportunity to have access to five of Albemarle county's finest private, historic properties, all of which date back to the Jefferson era. And of course, while you're here, be sure to enjoy some of our restaurants with locally-sourced food, award-winning vineyards and craft breweries.
Other highlights of Virginia Garden Week include access to Williamsburg, including tours around houses in Colonial Williamsburg dating back to 1730. Not only is Williamsburg one of the most picturesque places to visit in Virginia, but it's positively packed with activities for adults and children alike. In fact, there is an exclusive children's garden at Matthew Whaley Elementary School that will delight the younger generations.
The History of Garden Week
Garden Week dates back to 1927, when the first flower show was organized in order to raise money to save some trees planted by Thomas Jefferson on the lawn at Monticello. They raised an astonishing $7,000 (today's value of $97,000), and the tradition lives on. The proceeds going to the restoration of historic gardens as well as providing graduate level research fellowships.
Not only is Virginia rich with history and tradition of preserving our lands, but our climate and nutritious grounds are ripe for the cultivation of plants, flowers, and crops. Garden Week is an ideal opportunity to get back into the root of existence, and experience the zen of a beautifully cultivated garden to inspire the mind and bring one back from the doldrums of winter.
Looking for more outdoor activities in Central Virginia? Check out our post on top winery picks and touring Orange, Virginia.